Ambassador - Clif Blaisdell

---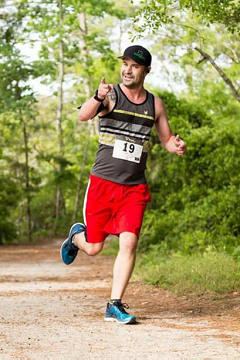 Clif was born and raised right here in Virginia Beach along with his 3 brothers. Running found Clif in 2016 in Hampton, Virginia during one of the toughest moments of his life. With nowhere to turn, Clif strapped on a pair of hiking shoes and started running. He didn't have a watch and clearly didn't have the right pair of shoes, but he needed to clear his head. That run changed his whole outlook on life. That's the day he experienced pure clarity of clearing one's head and feeling of…..pain, lol. Clif learned all one needs to do is run more than 6 miles with a group of people and you'll know everything about them. The life of running started at that moment for Clif and still to this day he's amazed by all of the positive energy that this running community has.
Clif's running took off in 2016 with running his first 5k, half marathon, and training for his first marathon. During this year, he met some amazing forever friends and met the love of his life while running. 2017 was the beginning of marathons!!!!!!! Shamrock 2017 was so excited to hear that Clif had registered last minute and toed the start line with his people. Well……….Clif completed Shamrock and moved on to his next endeavor, which was to run all the races.
Clif is an active member of the running community and has assisted with being a photographer at multiple races in the area. Clif is currently training with Endeavor Running Co by his amazing coach Rob Hunter. He's also a member of Tidewater Striders and links up with other groups in the area as well. As a Running Etc ambassador, Clif hopes to share his knowledge, passion, and positive togetherness with the running community.