Ambassador - Jamie Beasley

---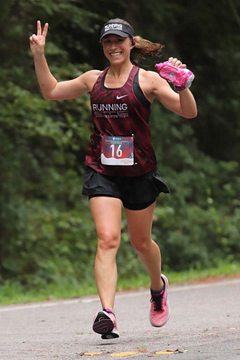 I am a former gymnast turned runner. Prior to having children, I HATED running! But after having my daughter in 2008 I needed something different to get back in shape post-baby. A few of my friends were runners and convinced me to sign up for the Shamrock 8k. When I first started running, I could barely run a mile. I got better and better as I trained and ended up falling in love with running. I have done countless races since including 4 marathons and most recently a 50k. If you had asked me 10 years ago if I would ever run a marathon I would have laughed in your face. Now I can't imagine not running.
Favorite Distance: Half Marathon
Most Memorable Race: My first marathon, the 2015 Shamrock Marathon…such an amazing/emotional experience to cross that marathon finish line for the first time!
Dream race: Boston Marathon (I'm originally from MA and went to PT school at Northeastern in Boston so the Boston Marathon is near and dear to my heart)
Favorite non-running activities: Photography, spending time with my family and friends, watching the Red Sox (I'm a diehard fan!), and relaxing at the beach with a good book.