Ambassador - Julia Blakeburn

---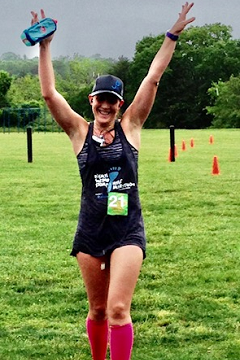 I started running in 2002 during my sophomore year in high school and I HATED IT! I started running to keep in shape for the swimming season, and I even joined the cross-country and track teams, but did I mention that I HATED IT!
Luckily, once the pressure was off, I grew to enjoy this sport called Running. I ran my first half-marathon in 2013 at Crawling Crab and haven't looked back since. This sport is a constant in my life, and over the past several years has seen me through both good and not so good times. It has taught me self-discipline, self-worth, and that I can achieve anything I put my mind to! Some of my proudest accomplishments center around running – completing the Seashore 50k and another 12-hour race. Running also has introduced to some AMAZING people whom I now consider friends. Running also has strengthened my relationship with my Dad who has been a runner since he was in the Marine Corps many, many, many, years ago (Sorry, Dad J). So, I guess you can say that running is in my genes!
Now, I never claim to be the fastest runner, nor will I ever BQ, but I can promise that I will be out there cheering and supporting this amazing running community. I enjoy supporting local running events like the Brewed to Run at Smartmouth Pilot House on Wednesdays, and participating in many local run clubs. I also give back to the running community by pacing for RSC Pacing at the Virginia Beach Rock 'n' Roll, Dismal Swamp and Flying Pirate Half-Marathons. It is an amazing feeling helping people achieve their goals when I am pacing. I look forward to continuing supporting this amazing community as a Running Etc. Ambassador.