Ambassador - Kerry Mitchell

---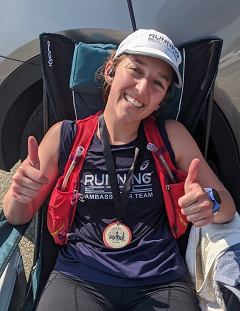 Through coercion from my older sister, I started running during my first year at UVA in 2010. I kept going with it throughout college, but having never really considered myself much of an athlete and certainly not a real runner, it was mostly a means to stay in shape while playing on the club ultimate frisbee team. I ran a handful of local 5ks during college, but in 2014 I signed up for the Monument Avenue 10k, my first big race. Crossing the finish line in Richmond that year was what really got me hooked, and from there I ran my first half marathon in 2015. I've run four other half marathons since then, plus countless 10ks, 5ks, and more - nothing beats the excitement and satisfaction of race day, no matter the distance!
Since moving to Norfolk in May 2018, I've expanded my running horizons to include speed training, running with groups, and actively chasing time goals - all things that I used to think were for "fast" and "real" runners only. I got into ultra-marathon running throughout 2020 and have set my biggest goal yet for 2021 - my first 50-miler! However, running means much more than PRs and medals, and my biggest goal as a runner is always to continue using my sport as a way to improve my mental health, connect with my community, and welcome others into the fold.
Favorite Distance: Anything on a trail
Pre-Race Meal: So. Much. Pasta.
Favorite Race: Tie between Singletrack Maniac 50k by Happy Cat Events and Sun Up to Sun Down 50k by J and A
Dream Race: The next one!