Ambassador - Lee Anne Stevahn

---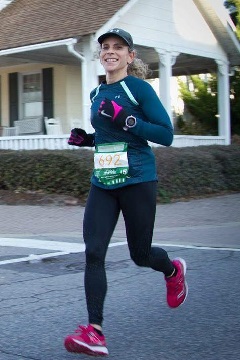 Lee Anne Stevahn is a Virginia Beach Orchestra Teacher, a single mother of three girls, and an avid runner. She has lived in Virginia Beach most of her life, and she has a Bachelor of Music Education, from Old Dominion University. Lee Anne has taught at the middle school level for 23 years, and she is an active member of the Endeavor Running Team and Club, the Tidewater Striders, and several other running clubs in the community.
Lee Anne began running later in life, in order to enhance her healthy life style, and to accommodate her kids' schedules. This led her to a few short distance races and then her first half marathon in 2013. Lee Anne began her first official training in 2016 with the J&A Training Team, with no intentions of ever running a full marathon. After training many longer runs than planned, she decided to sign up and race the 2017 Shamrock Marathon. Despite the terrible weather conditions, crossing that finish line is one of the most memorable moments of her entire life. This feeling of accomplishment is what fueled her passion for running, led her to many more races, and drove her to train harder with future goals in mind. With the exceptional training and coaching of Rob Hunter and the Endeavor Running Company, Lee Anne began to PR and place in many races. This included 2 more full marathons, the 2017 Marine Corp. Marathon, and the 2018 Shamrock Marathon, where she Boston Qualified!!! This was truly one of the best days of her life!!!
Running has changed Lee Anne's life completely. At the beginning, it was to declare her independence, add to her fitness schedule, and to prove her strength and endurance. Running then became so much more… Running is her therapy, her connection to her best friends and soul mate, her time to commiserate with the people who know her the best, and her release from the daily stresses of life. As a Running Etc. Ambassador, Lee Anne plans to share her running experiences, motivation, and love of the sport to others throughout the area.