Fit Is Everything!
---
Happy feet start with proper fit! Proper fit starts with a staff that understands feet and footwear.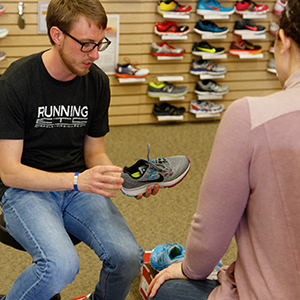 Our staff will take the confusion out of buying running shoes. We are known all over the state for our expertise in putting runners in the right footwear. We will watch you run, analyze your foot type, check the fit and recommend shoes that will keep your feet happy. We understand how footwear can help you, and we know how improper footwear can hurt you.
Whether you're running for fitness or competition, we have the most comprehensive selection of running footwear in the region. This includes neutral shoes, stability shoes, motion control shoes, light weight trainers, road racing flats, cross country spikes and track spikes.
We stock women's shoes in sizes 5 through 13, many in AA to 2E widths; men's shoes ranging from 7 to 16, many in B to 4E widths; and kids' running shoes in regular and wide widths.
Our Fitting Process
Fitting shoes is a process. It involves understanding feet and footwear. It also involves predicting how feet will function in footwear, not just in the store, but as the shoe accumulates miles on the roads.
The process we use helps us gather information that is necessary to make recommendations for choosing the best shoe for your individual needs.
[1] Bring Your Current Shoes
If you plan on visiting one of our shops, please bring the shoes you currently run in, the socks you would typically wear and any insoles or orthotics you are wearing in your running shoes. Your old shoes can tell a story. The fit, wear pattern and mid-sole compression can give us valuable information that can help determine what features worked for you or possibly caused problems.
[2] Running Questions
Our staff will ask questions about your current weekly mileage, long term training goals, typical running surface and history of injury or foot problems.
[3] Foot Analysis

To determine your foot type, our staff will examine your foot shape, width, arch height and flexibility. Every employee at Running Etc. is trained to perform a bio-mechanical analysis. We will watch you run in your socks and in your current running shoes. A bio-mechanical gait analysis is a process that allows our staff to accurately recommend the proper footwear category for your degree of pronation and specific needs. Our staff will determine your level of pronation, that is, normal, moderate, excessive or under pronation. Running shoes are designed with varying degrees of support. Matching the proper cushion or support to a runner's foot is the most effective way to ensure comfort and reduce the risk of injury.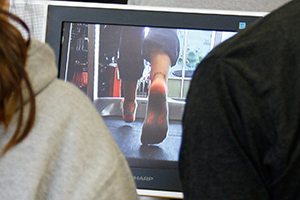 We also offer video/treadmill gait analysis. Video analysis is not a tool that we need to do our job, however, it is an effective way to help you see and understand how we are looking at your feet. The process takes just a few minutes. We will record you running on our treadmill barefoot. Next, we'll have you run in your old shoes. Then we'll have you run in an appropriate shoe with features that match the dynamics of your foot type. We can replay the video in slow motion and freeze the data. Viewing the images can be very dramatic.
This entire foot analysis is the only way we know to make appropriate footwear recommendations. It is the very reason we sell so many shoes and have so few returns. There is no charge for this service and no appointment is necessary.
[4] Footwear Category
Once we have determined the characteristics of your feet, we will recommend a footwear category. For day to day training, the categories include Neutral, Stability or Motion Control. Matching your foot type to an appropriate category is extremely important. Shoes that are too stable can cause as many problems as shoes that are not stable enough. We will explain how the features in the footwear we present will benefit your foot type.

[5] Sizing
Athletic shoe sizes differ from dress shoe sizes. If your dress shoe size is a 10, your running shoe size could be a size and a half larger. Our staff will help you choose a length and width based on your current mileage and your personal preferences.
[6] Compare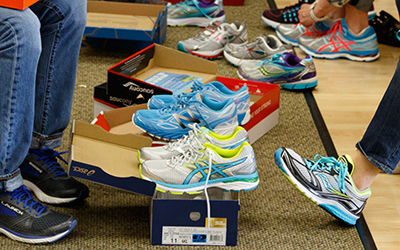 Once we have determined the proper footwear category and size, we will recommend a variety of shoes from several manufacturers that will be appropriate for the characteristics of your feet. It's important to try on several models. Every manufacturer builds footwear in every category to fit their interpretation of the average foot. By comparing several models from various brands, you will find the shoes that best fit the characteristics of your feet.

[7] Test Run
Finally, we let you test the shoes outside on the sidewalk or on our in-house treadmill. Some runners have a hard time deciding between models.  Test runs can help you determine if a shoe has good cushion, support and is properly sized. Test runs are the only way to feel the transition from heel strike through toe off. Your running shoes should feel like an extension of your foot.
[8] Enjoy Your Runs
Once you've experienced this process of buying footwear, you may never again buy shoes without the help of a trained professional.
When you finish your workout, whether it's 20 minutes or 20 miles, the last thing you should be thinking about is taking your shoes off because your feet hurt. We believe our customers have the happiest feet on the planet!