Technical apparel does make a difference. The fabrics are extremely light, soft, durable and keep you comfortable during your workouts. Synthetic fabrics wick perspiration away from your skin, helping it evaporate quicker, keeping you drier on your runs. Keeping you drier on your runs translates to staying cool in the summer and warm in the winter.  It's great when you can look good and feel good while grinding out the miles, no matter what the temperature. Running is a four season sport with the appropriate technical apparel.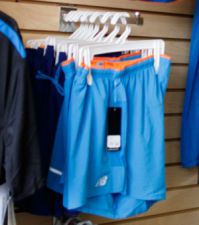 A runner cannot have too many shorts. We stock the latest styles, fabrics and colors from Nike, Asics, Brooks, Saucony, CW-X and New Balance. Choose from split shorts, v-notch shorts, and baggy shorts with 2.5" to 7" inseams. We have shorts with built-in briefs and compression shorts, as well as shorts that have pockets for your gel products or keys. Because today's runners have many body shapes we stock all sizes, including XXL for men and plus sizes for women. Our large selection of shorts is available year round.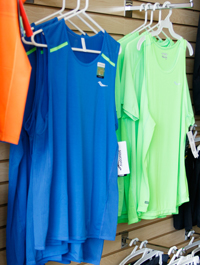 It's time to stop wearing the cotton t-shirts for your daily training runs or your weekend races. Today's technical fabrics are far better than yesterday's heavy cotton! The first run in a shirt made of synthetic, moisture management fabrics and you'll never run in cotton again. We stock the latest styles, fabrics and colors from Nike, Asics, Brooks, Saucony, and New Balance. Our shirt selection includes singlets, sleeveless, short sleeve, v-neck and crew neck. Some are rated up to UV 30 for the best protection from the summer sun.
Runners are very fortunate in Hampton Roads because this is a four season training town. The winters can be cold, but we rarely have snow and ice to keep us off the roads. When the temperature drops, we can recommend gear that will help you stay dry and comfortable. For your upper body, we stock long sleeve shirts, vests and jackets in various weights, all made with synthetic moisture wicking fabrics. Most runners worry about keeping their legs warm. We stock a large selection of track pants, tights, wind pants, and capri's in all sizes, including XXL for men, plus sizes for women, tall lengths, and petite lengths. Keeping your hands warm can be a challenge. We stock mittens and gloves, as well as gloves that convert to mittens. We offer a wide selection of ear bands, hats and caps to keep your head warm. We carry the running apparel from Nike, Asics, Brooks, Saucony and New Balance.